10 HEALTHY TIPS FOR SURVIVING AIRPORT AND AIRPLANE TRAVEL DAYS By Tara Wallace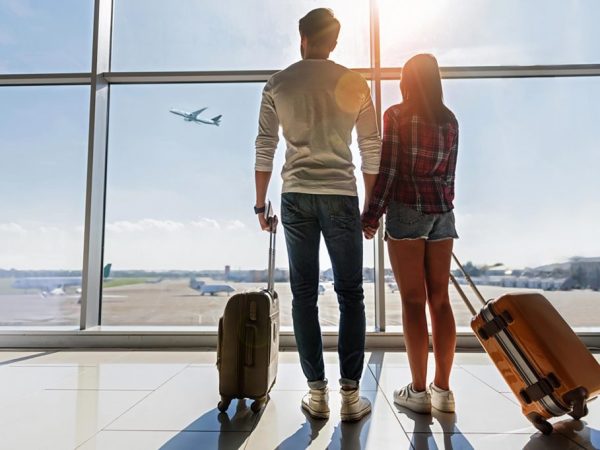 10 HEALTHY TIPS FOR SURVIVING AIRPORT AND AIRPLANE TRAVEL DAYS
Let's be real, we can control what and how we eat on travel days!! No excuses! Between a Starbucks and some simple prep tips,
travel days don't have to turn into wasted cheat days.
Now when it comes to working out, it's either finding something local like a
Tahoe Club 100
near you, or utilizing the hotel and your room and bring the gym to the privacy of your own room, but that's another blog for another day. First, surviving the travel days.
1. Always Bring an empty water bottle with you.
Fill it up once you get through security and stay hydrated. Flying already dehydrates you. Don't be drunk on a plane like the song. Stay away from caffeine alcohol on travel days, it's just going to make you feel crappy and more jetlagged. Use that time on the plane to sleep. If you're jacked up on Starbucks if you won't be able to sleep.
2. Remember to bring some sanitizing wipes.
Wash your hands as much as you can and sanitize your environment when you get settled in. Obviously try not to touch your face, A recent study by the world health organization WHO, that
 I read said
that we are 100 times more able to get sick on an airplane than not. Choose the window seat -it is the furthest away from the most people with the least  opportunity of getting sick. Be sure to wipe down your armrest, tray table, touchscreen and seat-belts which have  been noted to be more covered in germs than a bathroom on the airplane!
3. I always travel with almond butter.
Whether  I want to put it on my Apple or on my oatmeal or in my shakes. I always bring my own Applebutter. Some security TSA's have  confiscated it away from me, other times I've gone through with it.  Some considered it a liquid as others said it is a solid. Your best bet the TSA recently told me is to freeze it and then its solid all the way! and then no need for a dramatic break down while going through security.???
4. I always bring an apple or grapes.
Something hydrating. However a banana is a fruit you can eat but you don't have to touch the part you're eating.
5. Say no thank you the flight attendants when they hand you those salty peanuts and pretzels.
Tell them you brought your own mix of whole unsalted nuts and then pull them out. Bonus points for packing a container of fresh berries for beautiful healthy glueing skin!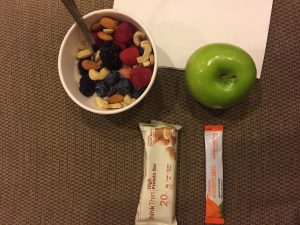 6. Starbucks oatmeal is one my favorite on the road or travel go -to meals.
It's healthy, clean, especially if you get the blueberry option. Make sure you get the one with the real blueberries not the fake ones. I always throw away the little bag of goodies after picking out the pumpkin seeds and never use the brown sugar. Blueberries, almond butter and Oatmeal  go great together for a good ratio of healthy carb -protein and fat. Even when I'm bikini training and on the road, this oatmeal worked in my macros.?
7. Wear your workout clothes on the plane.
Workout clothes and sneakers never go out of style and you will be more comfortable. This way you will not forget to pack your workout clothes!!! Plus,If You are wearing sneakers are at the terminal and you have an extra long layover-you can always walk the perimeter of your terminal. This is a great way to find out what restaurants are available to you while you wait. Don't just stop at the first restaurant. Read the menu. Read a few menus in your terminal before deciding. Check out the southwestern salad I found at the "cowboy ciao" restaurant in Phoenix. Boom! Score ! It was the third menu I read . It always makes me surprised to see McDonald's has the longest line. By the way, if you are that guy that is buying McDonald's before you get on the plane. Please eat it out in the  terminal before getting on the plane. Etiquette people!!!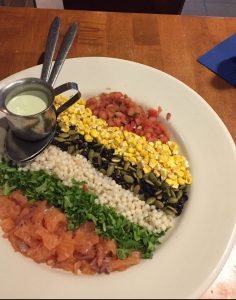 8. Pre-plan and prepack as much as you can.
You pre-plan your outfits right? make a list ahead of time what you need to pack. I always say plan plan plan ahead. The 6-pack makes a great travel container but you can get them at target just as easily.
9. BYOB.
Depending on where and how long you are going for -you may want to bring your own bullet. By that I mean blender. Or neutra bullet. It's small, the blade will not work in your carry-on so you will have to check it but it's worth having in your hotel room when you get there. Never miss Breakfast ! here is the recipe  for my favorite on the road shake. The chocolate monkey!! Many of my friends have traveled with me know this one well.
In blender, combine 1 cup milk, preferably almond or coconut milk with one banana, 1 tablespoon almond butter and two scoops chocolate protein powder. Add the desired amount of ice ???
10. Protein bars .
If you don't make your own  then bring a Think Think Bar -it's a quick easy option I always go to with 20 g of protein 0gram sugar. Another one just introduced to me  by a flight attendant is the fit joy bar available at gnc- cake batter flavor! ??
Stay tune for my next travel tip where I will share my best easy to make no-bake protein bar recipe 
Coming soon in my next travel blog. By Tara Wallace