Promo: FREE Spin/TRX class TONIGHT, April 12th (and every Wednesday in April!!) 5:30pm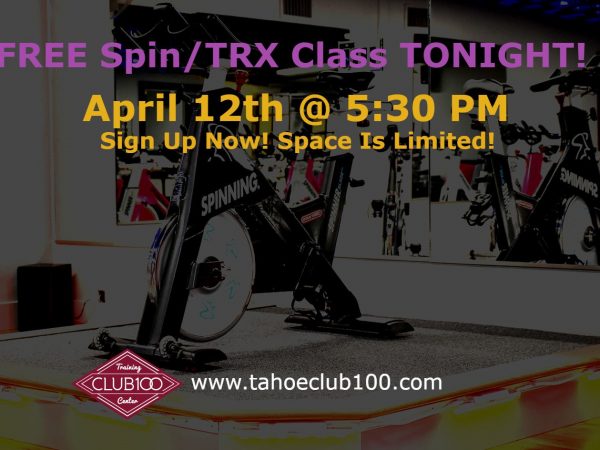 FREE Spin/TRX class TONIGHT, April 12th (and every Wednesday in April!!) 5:30pm at Tahoe Club 100 Training Center Space is limited! Sign up now with this link 
Spin with Anna Wendell. Read her Bio Below.
#Club100 #tahoeclub100#Club100FreeSpinWedApril #laketahoe #gym#TahoeClub100TrainersRock#TahoeClub100MembersRock
Anna Wendell
Anna Wendell was born and raised right here in South Lake Tahoe to a very active and health conscious family. She spent her growing up years biking, skiing, snowboarding, hiking, and playing team sports. Needless to say, the importance of health and physical activity was instilled in Anna at an early age.
Anna's passion for fitness began to blossom in 2006 when she decided to get into "the best shape of her life" one year before her upcoming wedding to her wonderful husband.
Not knowing what to do really in a gym, she started taking group fitness classes on a regular basis. It was through that group atmosphere that Anna found she was inspired and motivated by her instructors and fellow class participants. Attending these classes soon became a regular part of her lifestyle!
In March of 2013, Anna decided to take her passion for health and fitness to the next level by attending SCW Mania Fitness Convention and obtaining her first certification which was Schwinn Indoor Cycling. She began teaching spin classes shortly after at Splié.
Being an accomplished road cyclist (2013 Death Ride Finisher), she excelled as a spin instructor by creating fun challenging rides with the goal of bringing the outdoor riding experience indoors!
After spending a couple years focusing on being a spin instructor, Anna decided to further her fitness career and became an AFAA Certified Group Fitness Instructor in September of 2015. Shortly after she completed TRX Suspension Training Course (Level 1 Rank White) and obtained her Jillian Michaels Body Shred certification in March 2016.
Anna is dedicated to furthering her education and remaining up to date on the latest fitness trends to help her be at the top of her game. She has also completed her ACE Personal Trainer Certification.