Bikini Bombshells: Meet Club 100 Bikini Bombshell, Jessica Barlow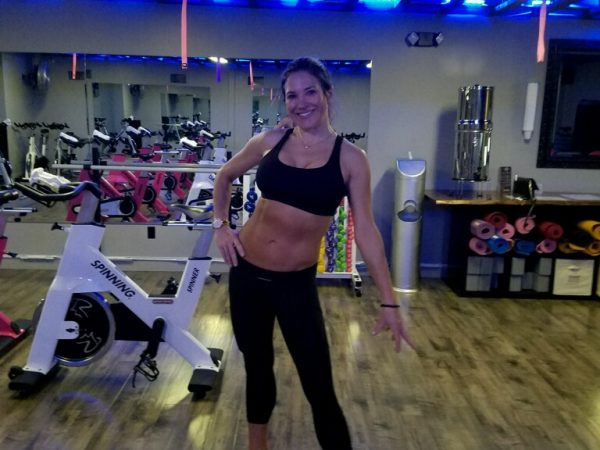 Meet Jessica, Bikini Bombshell, training for her first NPC (National Physique Committee) Bikini Contest on April 1st, 2017 in Sacramento, CA.
Jessica, at 40 years old, with her three other teammates make up the Bikini Bombshells. Tahoe Club 100 Trainer and Bikini Coach, Tara Wallace, is transforming these girl's minds and bodies!  NPC competitions are no joke!
Competition judges are looking for balance, shape, overall physical appearance and stage presence. Suffice to say, strict training and diet are required. Looking good in a bikini is just the cherry on top of the big bowl of ice cream you can't have!
But wait…. you can have ice cream, or a version of it, according to Bikini Bombshell Jessica. See below for her frozen go-to sweet treat.
Jessica took some time from her training and answered few questions about her journey as a Bikini Bombshell!
Happy Training Jessica! You are an inspiration to us all! Stay Healthy and Be Fit!
~
Q: Why did you choose to do a bikini competition?  
A: " I have always admired the hard work and dedication that goes into preparing for a bikini show. As a former endurance athlete and cardio girl, I knew this would be a whole new experience for me. Bikini prep is challenging because in addition to the workouts, strict adherence to a very specific diet plan is just as important. I wanted to challenge myself and push my mind and body to new limits. When I heard about the NPC Sacramento show on April 1, I knew I had to say yes. The rest Is history!"
Q: What have you gained so far in this training?
A: " Confidence and muscles! This experience is something nobody can ever take away from me. Believe me, it's challenging but I feel more confident in every area of my life. "
Q: What is your best fit girl secret?
A: "Get a workout buddy or group.  Invest in yourself, and the payback will amaze you. Hire a trainer even if for a short time to get you started on your workouts."
Q: What is your favorite healthy go-to meal or snack?
A: "I get sugar cravings at night. This does the trick, it's like eating ice cream."
1/2 half cup of egg whites,  
1/4 cup of cashew milk,
1 scoop of chocolate protein powder
1 tablespoon of PB fit or PB 
Blend in a blender with lots of ice
"It's so delicious. Tastes like Reese's Pieces"
(Questions provided by Tara Wallace. Answers by Jessica Barlow)