Following Up with Bikini Bombshell: Jessica Barlow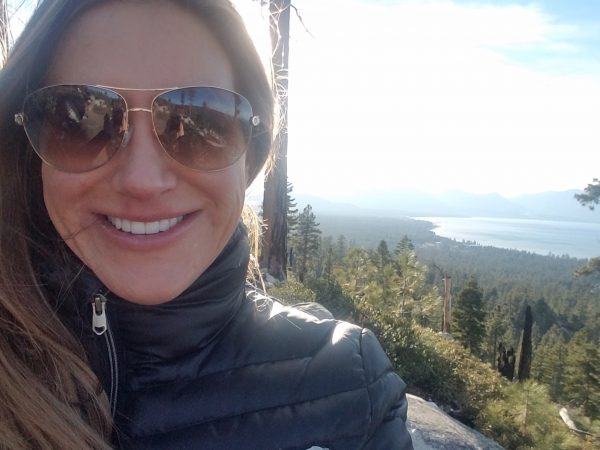 Following Up with Bikini Bombshell:
Jessica Barlow
Tahoe Club 100 had a chance to follow up with Bikini Bombshell, Jessica Barlow, and hear about her recent journey to the NPC (National Physique Committee) Governor's Cup Bikini Competition held on April 1, 2017 in Sacramento, CA.
The Bikini Girls make it look easy. Their beautiful tight bodies in a tiny bikini with full on hair, makeup, rhinestones, heels to the heavens and smiles for days. But after sitting down with Jessica and talking to her about her experience leading up to and onto the stage, we appreciated her authentic voice as she shared the good, the bad and the ugly and if she'll do it again. (Spoiler alert….she will!)
One thing is clear, training is not easy, and anyone who has trained for a goal, can attest that it's not always fun and games. There are bad days and even split seconds that force you to remain mentally strong, but just knowing the goal outweighs the circumstance becomes the fuel to keep you pushing further.
"I had no idea how much Bikini Training would change my life."
~Jessica Barlow 4/24/2017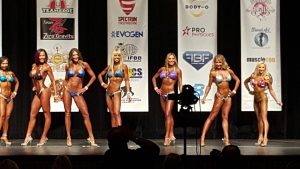 1./ How did Bikini Training compare to other training you have done in your life?
I have always been very athletic, and moved on to endurance style sports as an adult. I ate what I wanted to because I knew I would burn it off but never had the hard body I always desired.  I was lean, but not very much muscle tone – a cardio girl for sure! Bikini training is totally different and involves developing muscles. That's right, resistance and HITT training. As time progressed, I felt myself getting stronger and able to complete the workouts that in the beginning seemed impossible. This was a completely different experience for me, pushing myself in ways I had never done before. Some of the training times were as early as 6 AM and often twice a day.
2./ What was the hardest part of the show preparation?
 The physical stress on your body, finding time to train almost every day and pushing my body to its limits and beyond, the diet and tracking every bite of food on my phone in the form of macro-nutrients. Eating the same food (at least I did for months before the show) every day. Weighing out each of my 6 meals per day and bringing them with me wherever I go. Turning down lunch and dinner plans with friends and loved ones because I do not want to bring my own food into a restaurant or watch others eat what I want. The psychological impact when you hit a plateau and after training and following your meal plan, and then you step on the scale and it has not moved, or worse, gone up! This is just part of the process. It pales in comparison to the feeling when you hit your "oh my God I have not weighed this much in 5 years weight" or for me, when I saw my abs pop and my quads showing through my leggings. Now THAT is fun!
3./ Was the Bikini Training diet difficult for you? Will you still incorporate aspects of the Bikini Training diet into your everyday life now?
The diet was a definitely a life changer!  I was given a meal plan in the form of macro-nutrient amounts to stick to each day by my coach, Tara Wallace. I downloaded the app onto my phone, which made it super easy to track everything and stay within the guidelines. I was given a (short) list of foods I could eat and made my meals in advance to bring with me wherever I went. My decision to do the April 1st show came about in late January so I did not "ease" my way into diet or training! For me, cutting carbs was difficult to adjust to, as I have always loved sweets, cereal and oatmeal before bed, and this was simply something I had to cut out. I even had to give up creamer (the fake sweet stuff) in my coffee, so I just stopped drinking coffee altogether. Remember, a latte here, an Aussie bite covered in peanut butter there, it all adds up when you start tracking your daily food intake! So many of the changes I implemented during training are now part of my daily routine. I do not think I will ever give up my protein pancakes or the turkey meatballs (PM me for details!) and counting macros is SO easy once you get the hang of it. There is so much good information out there that it can be overwhelming. I feel like now I have a simple plan that I can tailor to fit whatever phase I am currently in.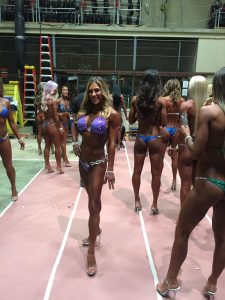 4./ How did you mentally prepare?
There were lots of psychological ups and downs during the show prep. Building muscle takes time, it is not an overnight process. There were days when I felt like I looked great! I would look at myself and say "I got this!" Other days, not so much. Maybe I did something wrong or had a little cheat and placed blame on myself. I would say to myself "you are never going to be fit enough in time for the show" or just feel plain guilty for not doing everything perfect. I also had to put a lot of trust in my trainer Tara, she was always there to motivate me or change something to make my time more efficient. With so many shows under her belt, she knows the challenges and is able to give great advice and encouragement. There were times when I really did not believe I would be stage ready. Part of my regimen was to take front, back, and side pictures once a week to track my progress. This was very helpful because each week my body did change if only a little. The last few weeks were the most drastic with my abs starting to show and my arms becoming more defined. But, as the show got closer, the guidelines to training and diet got stricter. The last 2 weeks were intense with very low carb intake and down to purposeful dehydration prior to the event. My thinking was foggy and I was having trouble sleeping. I just stayed on track and tried to not be so hard on myself. I knew it was temporary and just paid extra close attention to my daily tasks.
5./What was Show day like?
Let me just say it is very intense. The week leading up to the show is called "peak week" Carbs are cut, water intake is reduced so I was really tired. The night before the show was a long registration followed by your first round of spray tan at the hotel. The next day begins early with yet another spray tan, hair, and make up. This particular show had professional categories so Tara and I did not go on until the afternoon. It was a lot of waiting! The competition was fierce and the lights were bright! I have never done anything like this so to say I was nervous is an understatement. I thought to myself, am I really going to go out there and voluntarily get judged according to every inch of my body? What if I forget something? What if I start walking the wrong direction? Will someone tell me? The first time I went out was nerve racking, but by my third category I felt confident that I was bringing my best self to the stage. Of course there are things I thought of immediately after walking off stage, but for me the battle was just walking on, and I DID IT!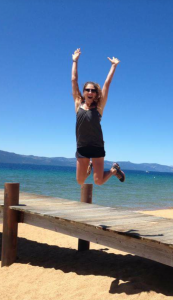 6./ What was the first thing you ate after the show and did it taste as good as you had hoped?
The first thing I had after the show was some sushi and a shot of tequila. It was delicious and just what I wanted!
7./ Biggest Take Away from the Bikini Experience and what would you say to other aspiring Bikini Competitors?
One of the most encouraging aspects of this experience has definitely been my teammates and sponsor, Tahoe Club 100. I did not go through this process alone and was blessed with the opportunity to train at the best gym in the Tahoe area! The owners Randy and Susan Farnsworth were and still are a couple of my biggest cheerleaders and I really appreciate it. If you have any desire to do a show, I would say go for it! This is an experience no one can ever take away from me and the habits I formed during training are some that I will hopefully have for many years to come. Don't doubt yourself. Dream big. Why not?  

8./ What's on the horizon for Jessica Barlow? Another Show in the future?
This experience has given me more confidence in every area of my life. I feel strong and I love a good challenge. I have enjoyed the journey and look forward to future shows!
**Jessica Barlow is a Realtor for Chase International (Luxuryhomegirl.com)  and skin professional at Rodan and Fields (www.rodanandfields.com/US/pws/skinjessica/join). Jessica competed in open, novice and masters at the NPC Governor's Cup Bikini Competition held on April 1, 2017 in Sacramento, CA