Food Tip: The Excalibur Dehydrator & A Strawberry Banana Cashew Trail Mix Recipe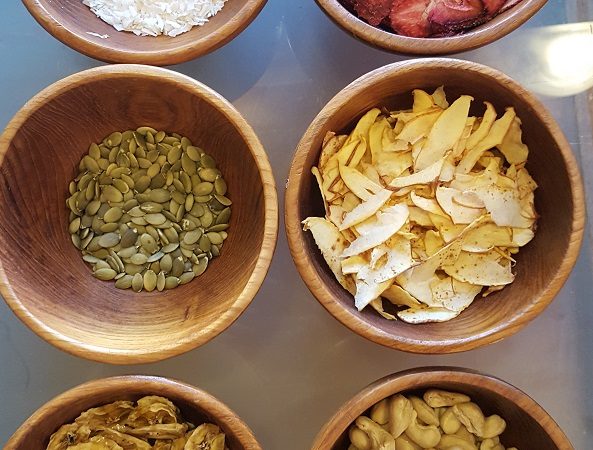 Food Tip:
The Excalibur Dehydrator & Trail Mix Recipe
Eating healthy and making great food choices is much easier when you have the right tools. One of the tools in the Tahoe Club 100 test Kitchen arsenal is a food dehydrator, and we have no problem especially calling out the Excalibur Dehydrators made right around the corner from Club 100, in Sacramento, CA.
Trail mix is just scratching the surface of what you can make with a food dehydrator. It's also worth mentioning that the days of the 'As Seen on TV' stacking round, 100 pieces of taking up cupboard space type dehydrators is over. Excalibur Dehydrators really have come into a piece of equipment that works for you and not vice versa. Set and go timers, temperature controls, peak- a- boo windows, different colors, and dishwasher safe pieces are just a few of the features of where dehydrators have evolved too.
At Tahoe Club 100 , we agree with the philosophy that food is fuel and is key to health of mind and body. We believe that whole foods and quality ingredients are what your body needs and craves. Whether you are a meat eater, vegan, vegetarian, raw food, paleo, primal, keto, macro, or just figuring out your own food relationship, just know that dehydrating food has been around for a long long time as a way to preserve food and nutrients.  Not much has changed in our primal needs in terms of needing to be prepared with prepped food to feed our bodies. But one major thing has changed, and that is  the noise of unhealthy choices all around us. Go-To food used to be preserved food not a drive thru, so let's change that paradigm and get back to our roots and use the tools we inherently know, and lucky us, it's become way easier!
Tahoe Club 100 kitchen has a ton of recipes to share, but to start we're introducing a recipe that is a how-to of making your own trail mix. We've dehydrated some strawberries, apples and bananas and are mixing it with raw cashews, pumpkin seeds and coconut flakes. You can always add in your own touches, like a handful of semi sweet chocolate morsels, other nuts and seeds and of course practically any dried fruit.
If you don't have a dehydrator, not to fret, you can always use your oven, but it's definitely more of a hands on process. You can also just buy all the dried ingredients. There are so many trustworthy brands that are committed to making the most quality products, it just comes at a higher price tag. For these two reasons, we recommend the long term investment and buy an Excalibur.
A quick note about sourcing ingredients. Buy the quality you can or want to afford, the higher quality the better in our opinion, your body deserves it. Costco has a great selection of organic and is where we get our raw/organic cashews. Raw cashews offer a fantastic texture and are packed with ingredients and not processed/ roasted/salted. Thrive Market is a great place for getting deals on pantry ingredients online like pumpkin seeds and coconut flakes. Amazon has  great brands and your local stores are carrying more quality ingredients. Check out and support your local Farmer's markets too for the freshest of ingredients.
One of our favorite trail mix flavor combos is a cashew, strawberry, apple, banana, coconut, and pumpkin seed. It's also been kid approved, as our little 4 year old mini chef helped prep the fruits, and was eating them off the tray when they were finished drying, hours later.
Stay tuned for more recipes like powdered spinach and what to do with it, making veggie dips with dehydrated veggies, making beef jerky, real fruit roll ups and other awesome food prep techniques using a dehydrator!
Cashew, Strawberry, Apple, Banana, Coconut and Pumpkin Seed  Trail Mix Recipe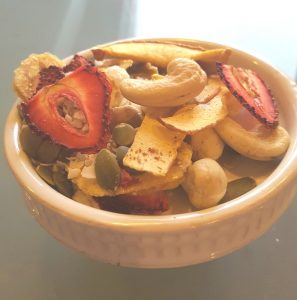 Ingredients:
2 cups raw cashews
1 cup pumpkin seeds
1 cup coconut flakes
1 cup dried strawberries
1 cup dried apples (sprinkle with cinnamon)
1 cup dried bananas
Directions:
Prep the fruit. Wash the strawberries, slice and line up on dehydrator mat/tray.  Line up sliced bananas on tray (TIP: The riper the sweeter they are when dehydrated). Mandolin or thinly slice your apples. (TIP: Keep on the peels for more nutrition. I like to sprinkle with cinnamon too.). Line up all the trays an turn on your dehydrator to suggested manufacturing settings for temperature and time recommendations. When finished, fruit will be hard, not crunchy but still with some texture, Should easily lift off the mats. Combine all the fruit, nuts, seeds and coconut flakes into a bowl and toss. Store in an air tight jar. Add in other ingredients, or try taking a bag full and adding other flavors to it, to continue to mix up the flavor combos.
But hands down, the cashew/strawberry/banana combo is delish!
Enjoy!