Bikini Bombshell Stephanie Griffith Hits The Stage Again!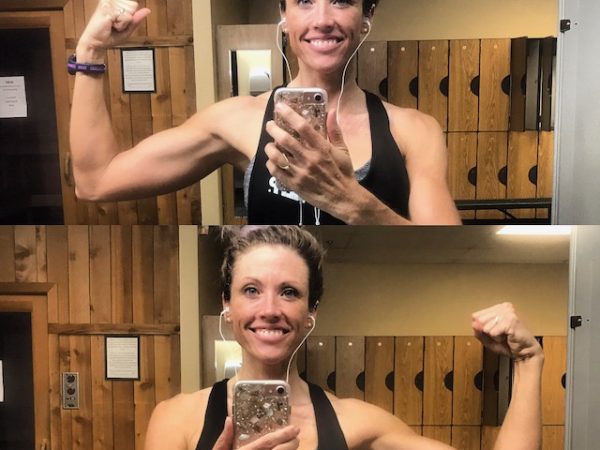 Guest Blog by Bikini Bombshell Stephanie Griffith
We are proud to spotlight Bikini Bombshell, Stephanie Griffith who is about to take the stage for her second time in a NPC Bikini competition. Saturday August 26th in South Lake Tahoe, CA, men and women from all around are heading to Tahoe Show – IFBB NPC Nevada California Bodybuilding, Bikini & Physique Contest. Stephanie has been training hard since her last show when just 8 weeks ago she swept the stage with 3 wins (1st, 2nd and 4th) in Reno, NV.  Thank you Stephanie for including us in your fitness journey. Your dedication and determination is an inspiration. You Got This!!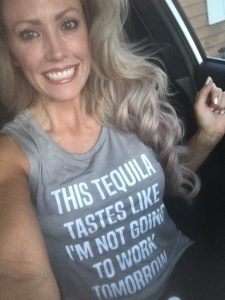 What made you decide to do another competition?
I knew I was going to do two competitions in 2017 once I started this journey. After my first show in June it was just a matter of picking the next one! I decided on the NPC Tahoe Show 2017 for a few reasons… 1. It's my home and I have so much love for Tahoe that I felt it fitting to step on that stage and represent my City… and 2. This show is a competitive one!! I heard the competition was TOUGH!! Hundreds of competitors come from all around to be a part of this show and something about that got me nervous as hell but totally pumped and excited to be a part of that. PLUS, this show last year is what made my final decision, and set it in stone, that I wanted to start bikini competing. So just after two short weeks off I started training again.
Is there anything different about this competition prep/training from the last one?
YES!! The cardio!! It's insane!! I do twice the amount of cardio this time around. I still lift weights 5/6 days a week and I'm using (almost) the same lifting routines BUT I've upped my cardio by about 150%. One of my goals for this show was to drop my body fat % a bit more. Like I said before, this competition is tough!! These girls I'm competing with are RIPPED!! I think they're all so strong, pretty and lean and I want to be a part of that with them on stage. I look up to each and every one of them.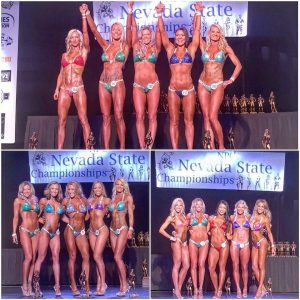 What is your after competition plan?
My after competition plan is to have a plan!!! What they say about after competitions is true… You feel a little lost w/out that strict routine and some end up feeling depressed after, and even worse splurging on a bunch of bad food. I ate so much unhealthy food after my first show that I got really sick. I'm not doing that this time. I'll go back to my clean eating (vs. competition prep eating, two totally different things) with my healthy 4/5 meals a day and then allow myself an indulgence meal a week. Unhealthy food hurts my stomach now and sweets overload gives me migraines, so I just need to make healthy decisions about what I put into my body now. I'll take a couple days off from the gym but that's about it. Working out is part of my life now. It's part of my normal routine so there's no need to stop any of that. Now I can just workout like a normal person; 1 hour at the gym instead of 3 and 4 hours!! I'm going to wait until 2018 to compete again. I have a cruise with my amazing, supportive husband in October and I really want to be able to enjoy the holidays this year without have to sacrifice because of competition training. But I can't wait to pick my next show and get back on it. Bigger and better for the next show. I already have one in mind and let me give you a little sneak peek into it, it's going to be a pretty spectacular show if I do end up going with this particular one. I'm going to train a little harder for the next to hit a few more physical goals of mine!!
What do you grab if you're craving something sweet? Something salty?
This time around I had no room for cheat meals and carbs were completely out of the picture for this prep. I only had 8 short weeks to lean up for this competition so… Here's what I did: I threw little temper tantrums and whined about it!!! HAHAHA!! I caved in a handful of times, I'd say about 4 times total in 8 weeks, and the "binges" set me back in progress so much that I had to slap myself, figure out my weaknesses and really get ahold of them. On the healthier side though, when I was DYING for something sweet I would heat up some slices of apples and sprinkle Truvia and cinnamon on them, DELICIOUS!! Coffee with Stevia is also a little sweetness I treat myself to, if it was night time I would just make some decaf. For something salty… a nut mix that was slightly salted. Almonds, Macadamia Nuts and Peanut Butter was on my list of foods I could have with my meals so if I needed a salt kick I would just eat an extra handfuls of nuts or Tablespoon of Peanut Butter. I had to be careful on this one because of the fat intake I was allowed daily.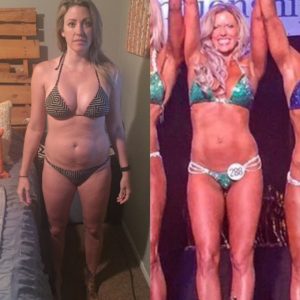 Reno, NV 2017
1st place in Bikini Master's B35+
2nd place in Bikini Novice
4th place in Bikini Class E