Three For Three March Membership Promo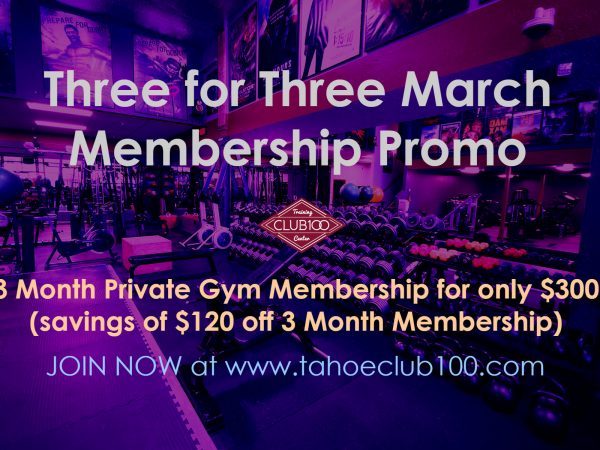 THREE for THREE MARCH PRIVATE GYM MEMBERSHIP PROMO

• Member owns a key
• Exclusive 24/7 Access to CLUB 100 Training Center.
• 20% Discount on Studio Classes and Nutrition Programs.
• A Complimentary Consultation with CLUB 100 Trainers
• Reduced Rates on Personal Training.
• CLUB 100 Amenities include: Advanced Security System, Key-less Club Card, Day Lockers, Towel Service, Espresso Bar, WI-FI, Purified/Ionized Water.
*Three for Three is a One-time promotional deal providing 3 Month Private Gym members a savings of $120. This offer is only available during the month of March 2017. Dues are paid upfront, Membership begins day of purchase.
*Membership does not include the cost of Studio classes or training fees. A replacement key is $20
*$25 Enrollment Fee waived to existing Club Members. Contact infotahoeclub100@gmail.com for price adjustment.
Become a Three for Three Private Gym Member, 3 Months for $300 plus a One-Time Enrollment Fee of $25
Join Today! Click HERE to become a Tahoe Club 100 Private Gym Member now!