Meet Whittell Warrior: Alexis Gonzalez
Inside the Gym:
The Warriors of Whittell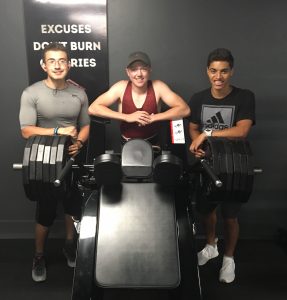 Meet three of the Warriors of George Whittell High School's Football Team.
Alexis Gonzalez , Sterling Manchester and Isaiah Womack are all training at Club 100 prepping for a great season this year. This month we are spotlighting each of these Warrior's as they prepare for their game days. We'll take a closer look at what fitness means to this generation of athletes.
Name: Alexis Gonzalez
Age: 15
Football Position & Team: Defensive Tackle/ Guard Whittell High School
Question #1
What are your Athletic Goals? :
My athletic goals are to become the strongest I can while being quick and having good endurance.
Question #2
What made you want to join the Whittell Warriors Football team?
I wanted to join the team because my friends joined and I thought it would be a great way to become closer and be able to experience difficult training with them.
Question #3
What is Your Training Schedule Like?
Usually I have weight training for my 5th period and I get everything that I need to do done, but if I can't, I go to Club 100 to finish anything I have left after football practice which is after school from 3:30pm-5:30 pm
Sunday- Rest
Monday- Chest & Back
Tuesday- Arms
Wednesday- Legs
Thursday- Chest & Back
Friday- Shoulders
Saturday- Legs
Question #4
What is your Proudest Fitness Accomplishment and why?
 I would say my Proudest Fitness Accomplishment is maxing out on bench at 275lbs. while weighting 165 lbs. because it's 110 lbs. over my bodyweight.
Check out a GWHS game this season,schedule here .