Bikini Girl: Meet Tahoe Club 100 Bikini Bombshell, Karen Kirk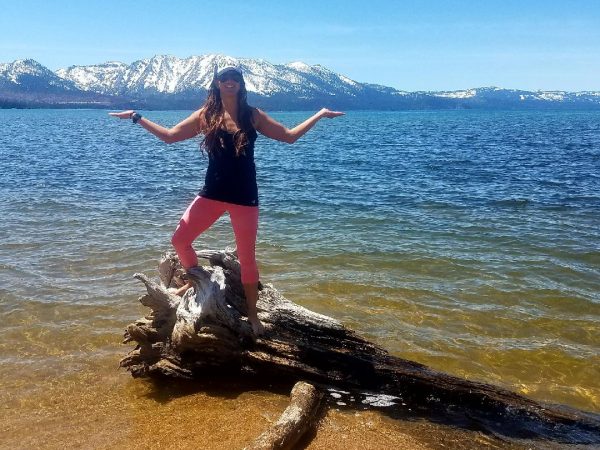 Bikini Girl: Meet Tahoe Club 100 Bikini Bombshell, Karen Kirk
Meet Tahoe Club 100 sponsored Bikini Bombshell, Karen Kirk. She is only 4 weeks out until her big NPC Bikini Competition (National Physique Committee) debut in Reno, NV!
Karen's decision to train for a NPC Bikini Competition is one of synchronicity or 'meaningful coincidences'. One thing is for sure, Karen is a dynamic woman and we applaud her dedication, motivation, and attitude as she works towards her fitness goals and aspirations!
Karen trained with Club 100 Trainer, Bikini Bombshell coach and NPC Bikini Alum, Tara Wallace of Splie' Fitness. Karen took some time from her training and answered a few questions about her journey as a Tahoe Club 100 Bikini Bombshell.
Happy Training Karen! Keep up the hard work! We are excited to follow you to the stage on June 10th in Reno NV! Stay Healthy and Be Fit!
For more information on the Tahoe Club 100 Bikini Bombshells contact Tahoe Club 100  or follow us on Facebook, Twitter, Google +, Instagram
Q: WHAT MADE YOU WANT TO DO A SHOW?
A: When I first started taking spin classes at Tahoe Club 100 in May of 2016, Tara Wallace was doing her first show. I was really inspired by her journey and all of her success.  That planted the seed in my mind, hey maybe I could do this one day! 
When 2017 rolled around, I had written NPC Bikini Show towards the bottom of my goal list for the year. At the end of January, an opportunity arose for me to sit in on a bikini show meeting, Synchronicity was in full effect, and the universe was giving me a green light to go for it.  I never thought I would actually be doing this, but hey here I am! 
I definitely wanted to rid myself of my self-limiting beliefs.  I needed to reach down into the depths of my soul and pull up my confidence that was buried deep inside due to years of emotional abuse and ridicule. I believe our struggles determine our successes and all pain has a purpose. Everything that happened in my past was leading me to this moment.
I wanted to get over my body image issues.  I gained 70lb when I was pregnant with my daughter, which really impacted my self-esteem. I wanted to be proud of myself, and I want my daughter to be proud of me.  I want her to have a strong mom to look up too.
I hope to be an inspiration for anyone who has ever felt that they are not good enough, strong enough, pretty enough or thin enough, ect. I want to prove to those who said I could not, that indeed I can. I'm as stubborn as they come, just ask my father!
I also want people to know that no matter how old you are, its never too late to set a goal or chase a dream into reality.  Once you convince your mind, the rest will follow and fall into place.
Lastly, I needed a challenge.  I have always been afraid of people looking at me and judging me.  What better way to get over that fear, then put myself on display on stage to be judged! 
Q: WHAT HAVE YOU GAINED SO FAR IN YOUR TRAINING?
A: The most important thing is a support system of lifelong friendships. These girls have become my fit family, I am eternally grateful for them every day. 
I also gained an appreciation for food science. I will continue to eat this way long after this training is over. I was always under the impression that I was a fairly healthy eater (minus my bread and cheese addiction haha!) but I had it all wrong. I was a carb junkie! I still enjoy my carbs, but now I know where in my day to place them, to fuel my body properly. No more carb loaded dinners for me! 
I have gained a new understanding of how to workout, smarter not harder!  In the past I was definitely over training and not seeing the results that I am seeing now. I was overly focused on cardio and not focused enough on weight training.
 I have gained a lot of physical strength during this journey, especially in my legs. Never did I think I would be leg pressing 350lbs!
Q: WHAT IS YOUR BEST FIT GIRL SECRET?
A: Pump up your mind before you pump up your body.  Play your favorite music, get your mind right and eliminate the distractions. Make it fun, because if you are not enjoying your workouts, you are not likely to stick with them. Take group fitness classes and join adventure groups, its a great way to meet like minded individuals.  Most of all do it for yourself an no one else.
If I could add one more nugget of knowledge, it would be that fitness and nutrition will never be, "one size fits all". Ultimately, you have to find what works for YOU. Listen to your body and be authentic. If something doesn't feel good to you, don't do it.  I can honestly say throughout this entire journey, I have stayed true to myself.
Q: FAVE HEALTHY MEAL/SNACK
A: I like to keep it simple…Chips and Dip!
Mash up an avocado and mix in some shredded organic chicken breast, season to taste.
Surround with cucumber slices. ENJOY!