THE

STUDIO
T
he Studio at CLUB 100 is our group fitness training area complete with instructors' stage, full-length wall mirrors; surround sound, inspired lighting, oscillating fans and space for 20 spin bikes. Explore classes in Spin, TRX, Boot Camp and Strength Conditioning and see why The Studio at CLUB 100 is the place to be to get a serious heart pumping workout!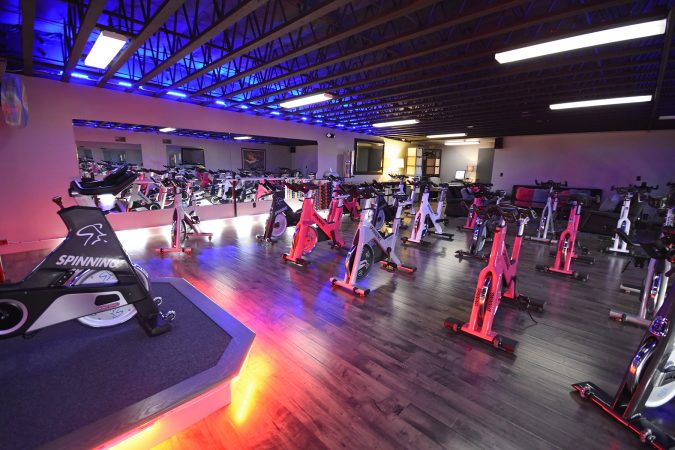 The Studio
CLUB 100 is delighted to announce our contemporary, innovative Group Fitness Studio.
Covered in wood flooring, The Studio offers a complete layout together with a training area and lounge.
Presenting the best design for a heart pumping group fitness workout, the training area is complete with instructors' stage, full-length front wall mirrors, Surround Sound, Inspired Lighting, oscillating fans and space for 20 spin bikes.
The studio also features a wardrobe with cubbies for personal items, Sitting area with cozy leather couch and chairs, and refreshment area.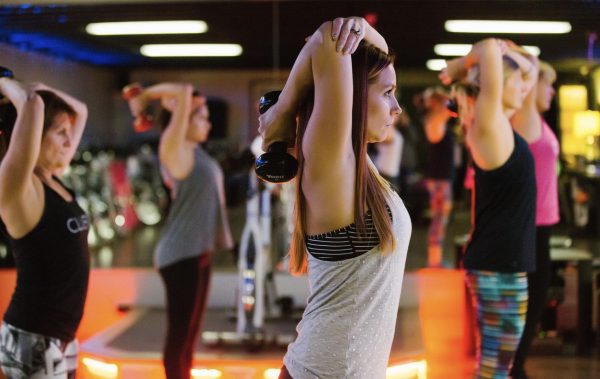 The Studio
The Studio, upstairs at CLUB 100 offers Intense Cardio-Strength Conditioning Classes.
Whether it's getting in a set of crunches, challenging your core, working your body's flexibility or sweating through a High Intensity Interval training routine, The Studio at CLUB 100 is your dedicated training loft.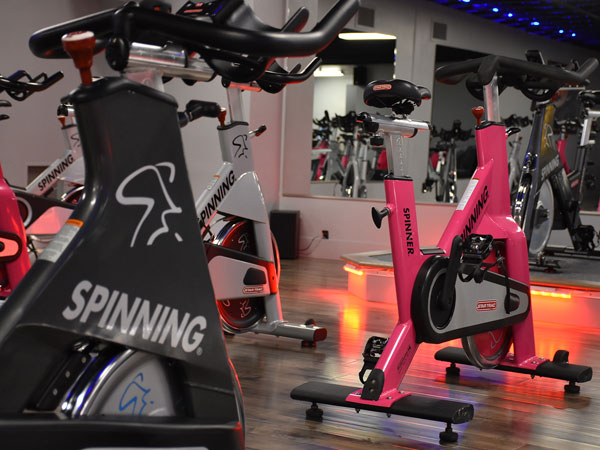 Indoor Cycling
Transport your mind and challenge your body with one of the CLUB 100s' many indoor cycling classes.
Ride to the beat of the studios' surround sound and experience an ever changing light display as our talented spin instructors takes you through the ride of your life.
Offering the highest quality bikes available, CLUB 100 proudly features 20 bikes from Spinning, the premier company for Indoor Cycle Bikes.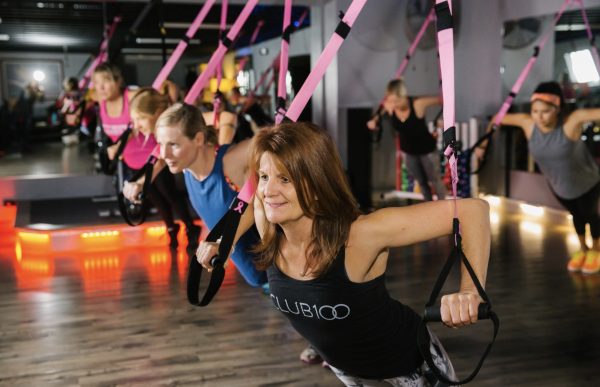 TRX
TRX suspension trainers are located in both the private gym and group fitness studio offering members non-stop muscle conditioning.
Designed to challenge major muscle groups, tone your body and improve core stability, TRX training will keep you asking "When can I try that again!"
CLUB 100 has purchased bright pink TRX Straps with 10% proceeds advancing Breast Cancer awareness.
I love Club 100, but most of all I love Rosie. Every morning she comes in with a smile and is always ready to challenge us. She is well prepared and incredibly motivating.  Her boot camp classes are amazing and we never do the same exercises, she always has something new. Her spin classes are fun and energizing. I love how she mixes it up with strength training. The club is clean and all staff are friendly and welcoming. I also really enjoy working out with the other people in class, they have energy and our very encouraging. Even if you are  in town for only for a few days please try Rosie's class, she is amazing! Marci M. Denver, CO

Marci M. Denver, CO
I've been to a lot of gyms – but none like this. I have never felt so comfortable and powerful at a gym. The group classes they offer are like no other. I am so happy to have found this place and I will continue to recommend it to all of my friends

Rachael M. South Lake Tahoe, CA
Best spin classes on the south shore. Not your "average gym" spin class experience. These girls do the work, talk the talk, look the part. A great combo of experienced real riders and well educated, seasoned coaches.  It's obviously they continue to educate themselves and stay up to date with music and indoor cycling trends.

Jennifer L. South Lake Tahoe, CA