Guest Post: On Stage with Tara Wallace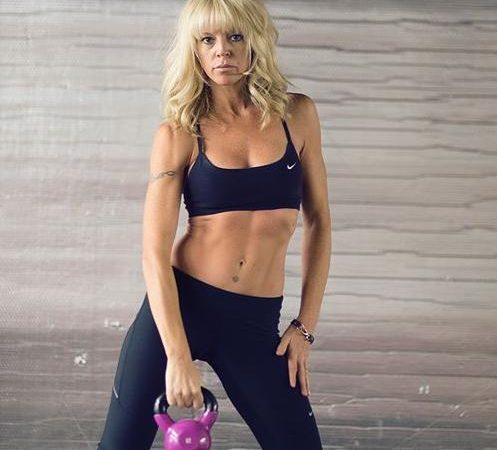 Guest Post by Tara Wallace
~Nationally Qualified NPC Bikini Competitor, Personal Trainer, Lifestyle Coach, Spin Instructor, Group Fitness Manager at Tahoe Cub 100 and Mother~
Whether it's a bikini competition, wedding, reunion or any kind of special event, I have the tools needed to get you there…for whatever "stage" you are facing in your life.
1. What made me want to do a bikini competition?
I have always considered myself 'fit'. I taught two classes per day on most days, and ate mostly healthy, I thought. Although, I am a huge foodie and I love wine and margaritas! I was working out a lot and very intensely but never quite seeing the results I wanted. As a trainer, I would weigh and measure some of the most beautiful bodies Lake Tahoe. A girl can't help but to compare herself to all these teeny tiny women and feel big. I hated when others would call me "squat booty."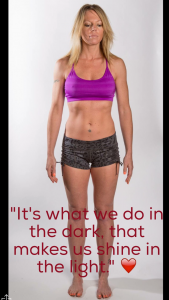 Once I start to bikini training, I found a place where my muscle and curves fit in. I started to own my curves and love and appreciate my body more than ever. We are all unique. Professional bikini competitions are about bringing your best versions of yourself to the stage. It's a mental journey as much as it is a physical one.
A good mentor and friend Cassandra Chandler gave me a great piece of advice before my first time on stage…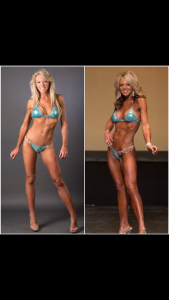 "Just remember, you've already won before you step out on that stage"
And it's true. Nationally recognized bikini competitions are about so much more than standing on stage and being judged on your body. It's about the journey that takes you there from the moment you decide to compete. When I watched my first competition, I was inspired. The women on stage had the most beautiful, sleek, sexy bodies I had ever seen. I want to look like that, I thought. I'll get my body in the best shape ever just in time for summer and I'll have some really great photos to promote my personal training business. That was my goal in the beginning. I got that all right, and so much more. I had no idea what I was in store for or how much hard work and discipline was ahead of me. I was 40 at the time of my first competition.
"The only girl I need to worry about beating, is myself." ~Tara Wallace
2. What have I gained from this training?
So, my body changed. I personally lost 7lbs, had dramatic drop in my body fat percentage and also was finally able to change the shape of my booty! What else came with this experience, I never expected, I made new friends. Sometimes, we think we're good, we've got all our peeps. And then people come into our life and we're like…"Whoa, where have you been all my life!'
I made connections with new women and men, new coaches and mentors. Not only have I made new friends, this entire process has also made me a better trainer. I've learned more about nutrition and diet and other styles of working out (and I thought I knew a lot). I've become vulnerable. I've gotten way out of my comfort zone. I've been on the gym floor, crawling and pushing my limits, thinking I couldn't go any further. Then driving home thinking, I can't believe I did that!
Along with my training also came some healing. Everybody's got something in their life they need a little healing from. Some people find that healing through therapy. Training in the gym was my therapy. After almost 2 years of thinking I was okay after a painful divorce, pushing myself in the gym beyond my limits gave me healing and closure from the carnage of my divorce. I believe the work we do in the gym is directly correlated to how we live our life. This training gave me mental breakthroughs that allowed me to start processing divorce. I would drive home after training and find myself finally letting go of built up tears. As things started to unlock in my head and my heart, I slowly started to build back up. I gained strength not only physically, but I also gained inner strength. I regained the confidence that I had lost.
I also learned to focus less on my weight on the scale and more on how I was feeling. That I owe to my first coach/mentor Camie Craigg. In the beginning, I kept asking, Camie, "When am I going to lose the weight?" Very wisely she kept reminding me the whole first month, "you are exactly where you are supposed to be right now, just maintain. How do you feel?"…I was feeling amazing, alive, energized and strong. This whole process encouraged me to go out and be the best version of me. As women, life can get busy and we can sometimes let ourselves go a little. This process made me feel pretty again. So in addition to all of this, I also learned workouts, recipes and meal plans that I can now use for the rest of my life. I learned to workout smarter, not harder.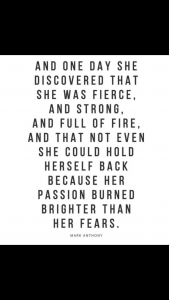 3. Best Fit Girl secret?
Oh my God -well I have so many because I spend my days with some of the coolest people ever in the gym so I have learned a lot, but the best…
Start every day with a meditation of gratitude. Seriously, you may think it has nothing to do with fitness, but our mental and spiritual health are all connected to our physical health. There must be a balance. Each morning before even getting out of bed, I lie there and take at least three minutes thinking of everything I'm grateful for. All things, big and small. Spend three minutes on gratitude and then three minutes of sending love to people in your life who might need it. And finally three minutes of intention setting for the day. This is a practice I learned at a Tony Robbins seminar and it has changed my life, giving me inner peace and setting me up each day feeling blessed and amazing. Try it for a month and you'll see a shift.
4. Favorite healthy go to meal?
Again, I have so many but I have two that I can't live without.
The Pancake

(I use this year around whether I'm in competition prep or off-season.)
-3/4 of a cup egg whites muscle egg
-1/2 cup oats
-1/2 teaspoon of vanilla extract
-1/4 teaspoon of baking powder

Blend all ingredients in a blender. Cook like pancakes in a frying pan slightly sprayed with coconut oil spray. Some days I like to add 1/2 cup blueberries, some days I loaded up with toppings, everything from almond butter, pumpkin seeds, goji berries, Chia, coconut and cashews. Be careful not to add too many toppings because that's where the calories can add up.
The Green Smoothie
(I love and makes me feel absolutely amazing. It's also great for beautiful radiant and healthy glowing skin.)
-Two scoops of Arbonne vanilla protein powder
-Half a green apple
-Five slices of a cucumber
-Handful of spinach
-Handful of kale
-Juice of 1/4 of a lemon
1/2 teaspoon of cinnamon
1/2 teaspoon of Chia
Blend in a blender. Drink and glow.