Take Five at The Club: Ana Tourino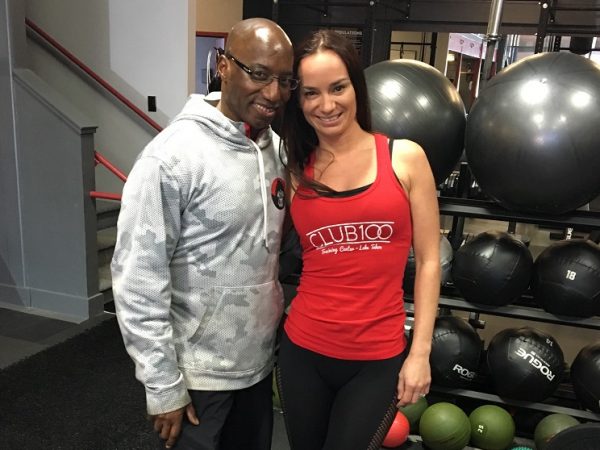 Take Five at The Club: Ana Tourino

About Me….
I am originally from Argentina, moved to Key West in 2010 where I met my now husband Ian and we moved to Tahoe 6 years ago. Now we have 2 beautiful daughters Avelin 3 and Alma 2 years old.
My love for fitness and the way it changed my life took me to where I am today. I am a professional "life changer. " I love to call it this way since fitness can be the solution to so many of people's problems.
What made you Choose Tahoe Club 100?
I was a mobile trainer with no home base, and I loved the personalization and the real one- on- one time with my clients. Club 100 has that personal touch where I can still train my clients without having to wait around for machines, equipment and they can feel like home. Very professional place to work at. Being able to learn from the best, my now friends Eufay and Rosie. I feel so blessed to work in such a great place full of positive energy, I am so thankful to Susan and Randy for giving me this great opportunity.
 
Take 5 Questions
Question #1
What drives you to work-out?
A: Working out really changed my life. I used to suffer from anxiety and depression postpartum doctors tried to prescribe me with different kinds of medicines to "numb me" (that's how I call it), I opted for not taking those pills and try to do it the natural and healthy way, so I went back to working out and training. I started registering to different races like 5k, 10k, Mud Run, Spartan.
I think that fitness can prevent so many diseases and prevention is always better that having to cure, so why not doing it while having fun and making friends? And a pretty cool extra is that makes us look good! I simply love it! I'm in love with my lifestyle, because being a trainer doesn't feel like a job to me, it just comes out naturally.
Question #2
What's your proudest fitness moment? 
A: My proudest fitness moment wow, hard question… ALL OF THEM! Every day waking up to go train someone, to go give a group class, or to train myself, it makes me proud to do it all the time, because sometimes life isn't easy, I just wake up not feeling it, I am tired or my kids kept me awake all night, but I get up and do it, so those are very proud moments for me.
But if I would have to give a date it would be Saturday September 30th 2017, I run the Squaw Valley Spartan Beast 18miles, 52 obstacles (including a 65 yard swim in 40 degree water at an elevation of 2000ft), gained a total of 4900ft elevation, I signed up for it months in advance, two days before that race I started feeling sick like a flu, the night before the race I could only sleep 4 hours because of nervousness and hard time breathing through my nose, I still got up, showered had a light breakfast and drove 1 hour and a half to get there.
My race partner got hurt 3 miles Into the race so he had to stop and get DQ (disqualified) my mind was telling me to stop but I kept going this time all by myself, I finished the race, it took me 7 hours because I had to stop many times since I wasn't feeling great. Even though my timing was horrendous, I had to do over 150 penalty burpees and I was sleepy and hungry, I finished it!! Crying like a baby through the finish line while looking at my husband and my two daughters waiting for me at the end, was my proudest fitness moment to tell my girls when they grow up that quitting is not an option, always try even though it might feel impossible sometimes it's always possible to do what we love.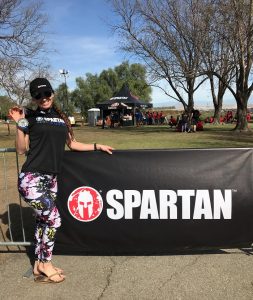 Question #3
Favorite Exercises or Piece of Equipment? Why?
A: I love planks and there are so many variations to practice without the need of having equipment. They are one of the best exercises to do for our core since it builds isometric strength which helps sculpting our waistline improves posture and depending on the type of plank we try we can also engage our back, arms, shoulders, glutes and hamstrings. 
Question #4
What's your Favorite work out song, artist or album?
A: It's a new song for me, and I actually discovered it by watching a kids movie called "Leap". The song name is "Confident" and it's by Demi Lovato. I love it because it has so much power, and energy.
There's many other songs I love for working out but this one is my favorite at the moment.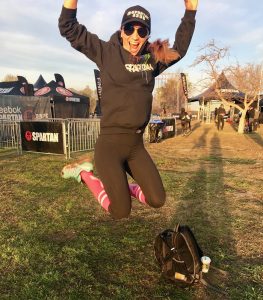 Question #5
What's in your gym bag?
A: My gym bag is always so full lol, I bring everything "just In case." Pair of cycling shoes, an extra pair of leggings, an extra shirt and sport bra, socks, hair bands, pens, my two workout note books, my daily planner, a little first aids kit, headphones, a measure tape, different resistance bands, gliders, mints, deodorant, energizing body spray, essential oils to use in my classes in the diffuser, a small face towel, wet wipes, fizz sticks, protein bars, my 40oz water bottle, my phone, my keys, lol that's so much! But I swear I always need more!
Ana is running an incredible promo for Personal Training right now.  If you were ever curious about personal training, this is a great opportunity to try it out for an awesome deal! CLICK HERE to Sign Up Now!